Eager Party-Goers In Full Prom-Preparation Mode
 As prom season approaches, the junior class is busy finalizing plans before the big day. With a masquerade theme selected, decorations and party supplies are on order and the junior class now anticipates their arrival. DHS prom has always been held at the school gym, and year after year, students have petitioned for the event to take at an off-campus venue. Those requests and urges have historically been turned down.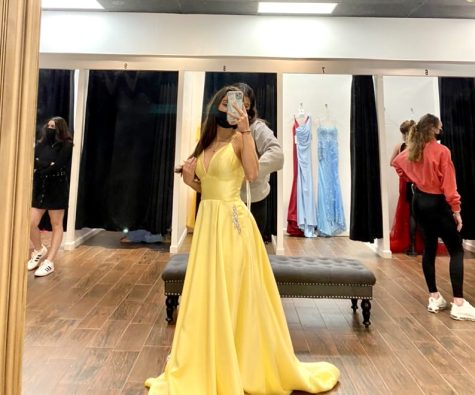 But now, due to COVID-related decoration delivery delays and complications securing the gym, DHS finally gets a gleam of hope that its long-standing wish– an off-campus prom, comes true. Junior class sponsor Christie Kendrick pitched the idea and awaits administration's response.
"So far we have decided to host at Sandy Oaks Ranch off-campus. Nothing is final yet but it looks like that's where we will have our prom, " junior Aidan Zapata said. "It's a very nice venue and looks like we are going to have a lot of fun!"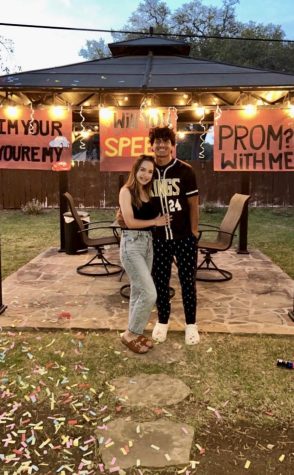 Since the juniors traditionally handle all of the party planning, seniors are free to make plans of their own. Plans of what colors to wear, where to go for prom night dinner, and who their dates will be. 
Playing with this year's masquerade theme, many girls are choosing darker, deeper colors. 
"I chose to wear green because masquerade reminds me of mysterious things and the color I think of is green, " senior Yessika Garza said. 
While other girls have chosen to have bright colors that they like.
"I have a rose gold dress because I wanted to go with the theme of my quince dress," Danelly Rodriguez said. " It's special because I got both dresses from my hometown, in the Valley."
While some juniors and seniors are concerned about whether they will get asked to prom, others already have their date secured. Lowerclassmen have to be invited to the junior-senior exclusive event.
Of even greater concern is whether or not a promposal will be included with the invitation. The promposal is such an important part of prom that even Werriam-Webster, the dictionary experts have given the word an official meaning: A 'promposal' usually involves a special or elaborate act or presentation that took some thought and time to prepare. Asking someone to prom is almost as old as prom itself, but as the act of asking grows more and more elaborate the phrase "asking someone to prom" is no longer sufficient.
"I am taking my boyfriend that graduated last year to prom, and we are so excited," senior Lacey Shook said. "We've been each other's dates for prom for the last three years."
Some party attendees are renting cars for the occasion. 
"I am renting a Nissan GTR with my girlfriend and we are very excited to see it," senior Charles Waddey said. "I'm so thrilled to be driving around my dream car." 
Others are planning to arrive at prom as a group.
"We all pitched in to get this huge bus and I am really excited," junior Bailey Oropeza said. "We plan on going to La Cantera to walk around but we haven't chosen a place to eat yet."
Knowing how you'll get to prom is one concern, another is where to go on that ride. A traditional part of the prom experience is going out to dinner in full prom attire.
"We wanted to eat somewhere very nice and big for our last high school prom," senior Macey Hein said. "A lot of us have never been to the Tower of Americas so we all agreed that was the best option."