Science Teacher and Coach Mary Long Retires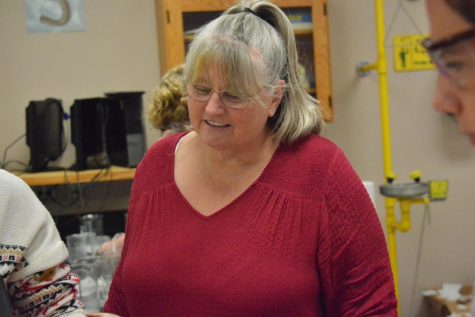 After 31 years of teaching, Mary Long will be going into retirement at the end of this semester. This year she taught the AP Biology, Pre-AP Biology, Anatomy, and Physiology classes for multiple grade levels. 
"I have taught at Devine for 31 years and I also coached cross country, track, and was an assistant volleyball coach for 10 years," Mrs. Long said. "During that time I taught 6th-grade science, then I moved to teach PE at elementary and high school for a few years."
Before becoming a teacher in Devine, she taught and coached in Hondo for a few years. She later moved to Devine and started to coach and teach at the Devine campuses. After her oldest son turned one year old, she decided to stop coaching and began teaching science at the high school. 
"I actually wanted to go into outdoor education but decided that it was not a very sustainable career at that time," Long said. "Instead, I chose to teach and coach. I guess it wasn't until I started teaching science at the high school level that I really found my passion. The study of life is absolutely beautiful and fascinating."
If you ever happen to walk by Long's classroom or take a peek inside, you can find her interacting with her students. Between the hands-on labs, the lectures, and the class assignments, she is always taking her time to help her students.  
"One thing I absolutely love is sharing a common interest in science or even helping some students discover an interest in science," Long said. "I am so fortunate to have been able to share that with so many students over the years." 
Long is the type of teacher you can go to for any type of questions. She will stay at school during her lunch break and conference if you need to come in to finish an assignment or need any extra help. 
"This year I am taking AP Biology, which is a college-level course with Mrs. Long," senior Macey Hein said. "Usually I am very good in my science classes, but this class has required a lot more time and focus than all the others. Mrs. Long has given me every opportunity to get better in her class and has taken so much time to make sure I understand my assignments and labs. She has definitely not only been mine but my other classmate's AP Bio lifesaver." 
In 1983, Long graduated from DHS and took her time in college to earn her Bachelor of Science in Physical Education with a minor in English from UTSA in 1988. 
"Although I did not pursue outdoor education, I found something that I loved to do," Long said. "Changing your path is perfectly okay, and I want to encourage students that your interests are important and to do whatever you think will make you happy."