Give Thanks This Season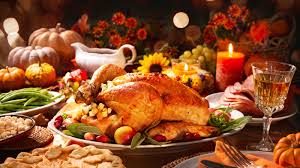 Thanksgiving is the time of the year where you give thanks to friends, family and people of the community.
"I am thankful for my friends, family and dog," junior Brianna Torres said. "Also, for the opportunity to play volleyball."
Besides the amazing food, you get to spend time with the people you love the most. Surrounding yourself with friends and family and showing them how much you appreciate them, and making memories that will last a lifetime is the beauty of Thanksgiving.
Make sure you cherish every moment with friends and family this Thanksgiving.
"I'm thankful for my coaches for always pushing me to be the best," junior Kendall Marek said. "Also, for 'my girls' and family for always being there for me no matter what."
Favorite recipes for Thanksgiving
Mashed Potatoes
INGREDIENTS
3 lb potatoes
Kosher salt
1 stick butter, plus 2 tablespoons
for garnish
1/2 c. milk
1/2 c. sour cream
Freshly ground black pepper
DIRECTIONS
•In a large pot, cover potatoes with water and add a generous pinch of salt. Bring to a boil and cook until totally soft, 16 to 18 minutes. Drain and return potatoes to pot.
•Use a potato masher to mash potatoes until smooth.
•Meanwhile, in a small saucepan, melt butter and milk until warm.
•Pour over warm milk-butter mixture and stir until completely combined and creamy. Add sour cream and stir until combined.
•Season mashed potatoes generously with salt and pepper.
•Transfer potatoes to a serving bowl and top with remaining two tablespoons butter. Season with more pepper before serving.
Pumpkin Pie
INGREDIENTS
1 frozen unbaked (9-inch) deep
dish pie crust
1 (15 ounce) can pumpkin
1 (14 ounce) can sweetened
condensed milk
2 eggs
1 tablespoon McCormick®
Pumpkin Pie Spice
1 tablespoon Vanilla Whipped
Cream
DIRECTIONS
•Preheat oven to 425 degrees F. Place pie crust on large foil-lined baking sheet.
•Mix pumpkin, milk, eggs and pumpkin pie spice in large bowl until smooth. Pour into crust.
•Bake 15 minutes. Reduce oven temperature to 350 degrees F. Bake 40 minutes longer or until knife inserted 1 inch from crust comes out clean. Cool completely on wire rack. Serve with Vanilla Whipped Cream, if desired.