Uncharted Movie Finds Uncharted Territory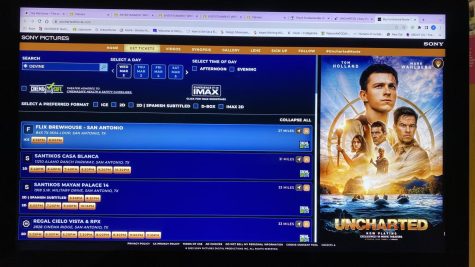 The Uncharted movie, which opened in February, is based upon the award-winning video game franchise of the same name. 
Uncharted stars Tom Holland as Nathan Drake, a young treasure hunter who claims to be related to 1500's English explorer Sir Francis Drake. Mark Wahlberg stars as wise-cracking, stubborn, yet wise Victor "Sully" Sullivan, and Antonio Banderas stars as Santiago Moncada, who is also chasing after the treasure as Nathan. Viewers will be surprised to spot many beloved celebrity icons portraying the characters from the story, and speaking of: the movie is inspired by scenes from the video game series. 
"I like the Uncharted movie because Tom Holland is in it, he is an awesome actor, who would make any movie number one," Riley Ramerez said. 
Some DHS students enjoyed watching a movie with their favorite actors. 
"I liked it, Mark Wahlberg is really cool and he's really strong, 10 out of 10. " Antonio Escavar said.
In 2008, video game company Naughty Dog launched the first Uncharted game, "Drake's Fortune" exclusively on the Playstation 3. It became a groundbreaking success, with its beautiful graphics, intriguing story, incredible orchestrated music, and a wonderful cast of memorable and quirky characters. 
The sequel, "Among Thieves" followed the next year, which not only defined the series and gained immense popularity, but was, and still is considered, one of the most revolutionary and greatest video games of all time. Among Thieves would later spawn "Drake's Deception" (2011) and "A Thief's End" (2016) with both receiving critical acclaim. 
 "I think it's going to be quite interesting, considering all my experience playing the Uncharted games, and Tom Holland's gonna do a great job playing as Nathan Drake," sophomore Ian Sullivan said. 
The Uncharted series of games were widely beloved among Playstation fans, and some anticipated that the series was just too good to not get a movie. Fans were thrilled when the movie was announced in 2021, fans were more than thrilled. 
Featuring high-quality and action-packed sequences that were reminiscent of scenes found in the games, Uncharted quickly gained attention from critics and fans of video games.
It's rare for a video game to receive a movie adaptation, and even more rare for them to be faithful to the games. 
Since the 1990s, popular video game franchises, such as Super Mario Bros. and Street Fighter have had the opportunity to expand their unique stories and characters to the big screen, however, they have received poor ratings from critics, especially fans of the specific franchise.
Since then, video game-based movies have been mocked for being "so bad that they're good," with a few minor exceptions, such as Tomb Raider (2018), Resident Evil (2002), and Sonic the Hedgehog (2020). 
Uncharted quickly rose to No. 1 in the box office, despite the overall mixed response, as fans and critics jumped to watch the long-awaited movie adaptation. 
Tom Holland is credited with an outstanding performance, while the movie's lack of originality, with most scenes being almost too identical to the games, is the greatest critique. 
With the reviews said and done, all parties agree, this movie is a fun adventure, and a love letter to Uncharted fans. 
Uncharted closed February as the third highest-grossing film of 2022, with $226 million to its name, making it the eighth time in the past two months a movie starring Tom Holland was No. 1 in the box office.